Shape Falloff Gradient Component
Add the Shape Falloff Gradient component to generate a gradient of a shape surrounded by a configurable falloff.
Provider
Shape Falloff Gradient properties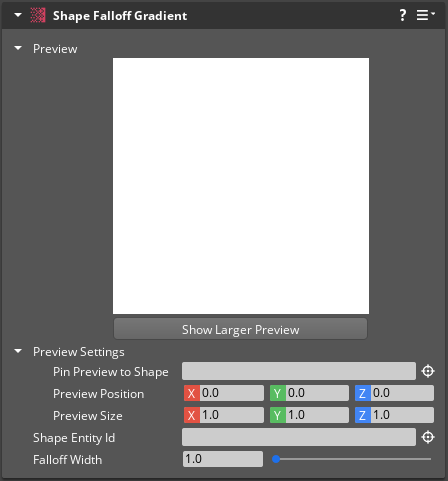 Property
Description
Values
Default
Preview
Displays the output gradient of this component after all properties are applied.
Pin Preview to Shape
Sets an entity with a compatible Shape component to use as the bounds of the preview if Constrain to Shape is Enabled.
EntityId
Current Entity
Preview Position
Sets the world location of the preview.

This field is available only if there is no entity selected in Pin Preview to Shape.
Vector3: -Infinity to Infinity
X:0.0, Y:0.0, Z:0.0
Preview Size
Sets the dimensions of the preview.
Vector3: 0.0 to Infinity
X:1.0, Y:1.0, Z:1.0
Constrain to Shape
If Enabled, the gradient preview uses the bounds of the entity selected in Pin Preview to Shape.

This field is available only if an entity is selected in Pin Preview to Shape.
Boolean
Disabled
Shape Entity Id
Sets the shape that this component will generate a falloff gradient around.
EntityId
None
Falloff Width
Sets the maximum distance (in meters) of the falloff.
Float: 0.0 - 100.0
1.0
ShapeAreaFalloffGradientRequestBus
Use the following request functions with the ShapeAreaFalloffGradientRequestBus EBus interface to communicate with Shape Falloff Gradient components in your game.
| Request Name | Description | Parameter | Return | Scriptable |
| --- | --- | --- | --- | --- |
| GetFalloffType | Returns the value of the Falloff Type property. | None | Falloff Type Index: Integer | Yes |
| GetFalloffWidth | Returns the value of the Falloff Width property. | None | Float | Yes |
| GetShapeEntityId | Returns the value of the Pin Preview to Shape property. | None | EntityId | Yes |
| SetFalloffType | Sets the value of the Falloff Type property. | Falloff Type Index: Integer | None | Yes |
| SetFalloffWidth | Sets the value of the Falloff Width property. | Float | None | Yes |
| SetShapeEntityId | Sets the value of the Pin Preview to Shape property. | EntityId | None | Yes |
---